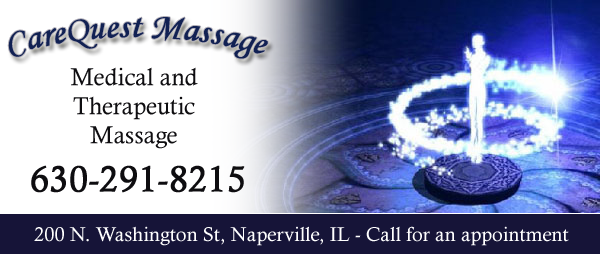 Experience the Quest!
CareQuest Massage – Medical and Therapeutic Massage – offers a complete and integrative approach to massage therapy resulting in the rehabilitation and restoration of musculoskeletal dysfunctions, release of muscular strains, increased flexibility and improved range of motion, all which provide clients with the most favorable experience to acheiving their optimal best in great health and wellness through the true benefits of massage therapy.
Experience another demension of massage therapy!
"Medical and Therapeutic Massage is no longer a luxury, but a beneficial necessity!"
Call CareQuest Massage today for an appointment: 630-291-8215.
We are located at 200 N Washington St, Naperville IL 60540.
Experience the Ultimate Benefits of Medical and Therapeutic Massage Therapy!